QR codes have become an undeniable part of our lives from a coupon or voucher code provider to a large payment medium – These scannable Codes are ubiquitous.
Before Apple and Google introduced QR Code scanning capabilities in the mobile camera, users required a QR Code reader or a scanner app. Some basic phones still require an app to scan QR Codes.
In this article, I will be talking about the top 10 QR code readers or scanner apps available for iPhone and iPad users. Also, I will include a general tip that comes in handy if you aren't sure about using an app for scanning a QR code.
1. Barner – Barcode Batch Scanner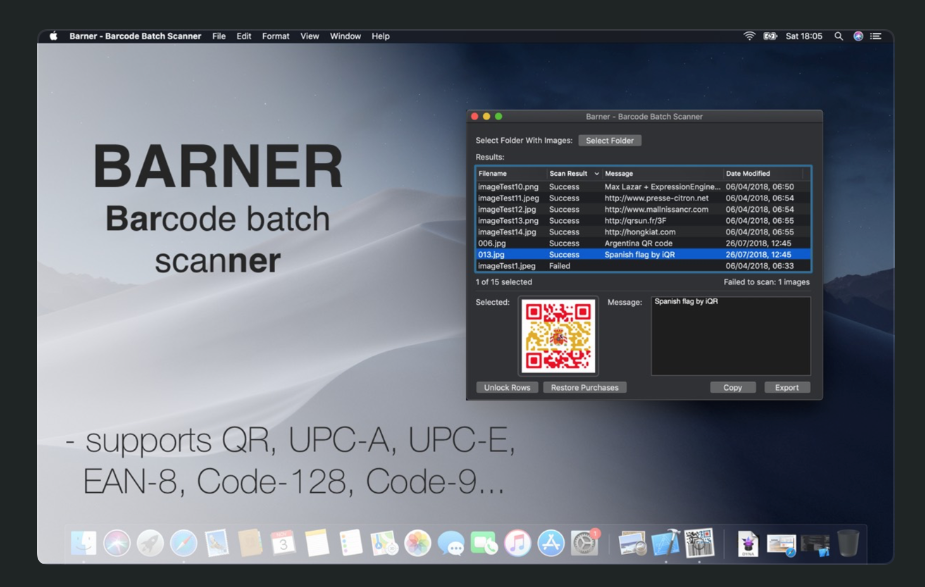 Ratings- 5/5
Even though the name hints on being a barcode scanner, it is capable of scanning both barcodes and QR Codes. This scanner has the ability to scan multiple barcodes or QR codes at a time before printing. However, scanning more than 3 files requires in-app purchases. Once you make the purchases you can scan as many codes as you want at a time.
The tool is very useful for those professionals who have to scan 10s and 100s of QR codes with embedded pictures before printing them.
It supports QR code, UPC-A, UPC-E, EAN-8, Code 128, Code 39 barcode formats.
2. QR Code Reader – QRScan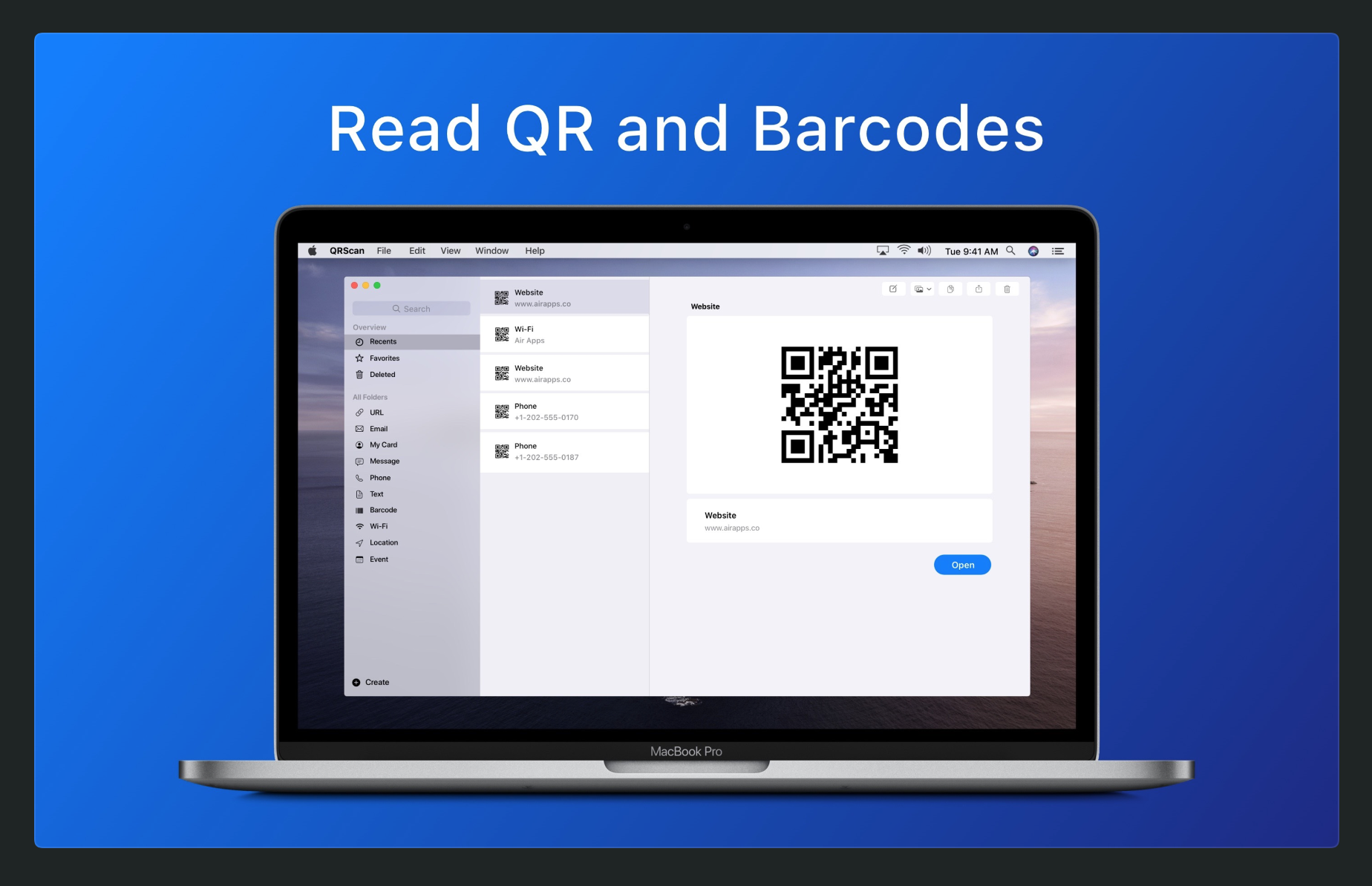 Ratings- N/A
QRScan can be accessed across all your devices be it iPhone, iPad or Mac. It is an easy to use reader with the capability to scan a variety of QR Codes. You will be able to read websites, contacts, messages, locations, phone numbers, e-mails, and events using this QR code scanner. It is, however, a paid application of minimal cost and requires MacOS 10.15 or later.
QRScan is very useful for those who are very active on social media. It enables the user to link photos, LinkedIn, YouTube, App Store, or Paypal. Also, you can share the QR code scan using e-mail, iMessage, Facebook, or Twitter.
It supports QR Code, AZTEC, CODE 128, DATAMATRIX, EAN13, EAN8, UPC, PDF417, and a few more barcode formats.
3. Barcode Scanner and QR Reader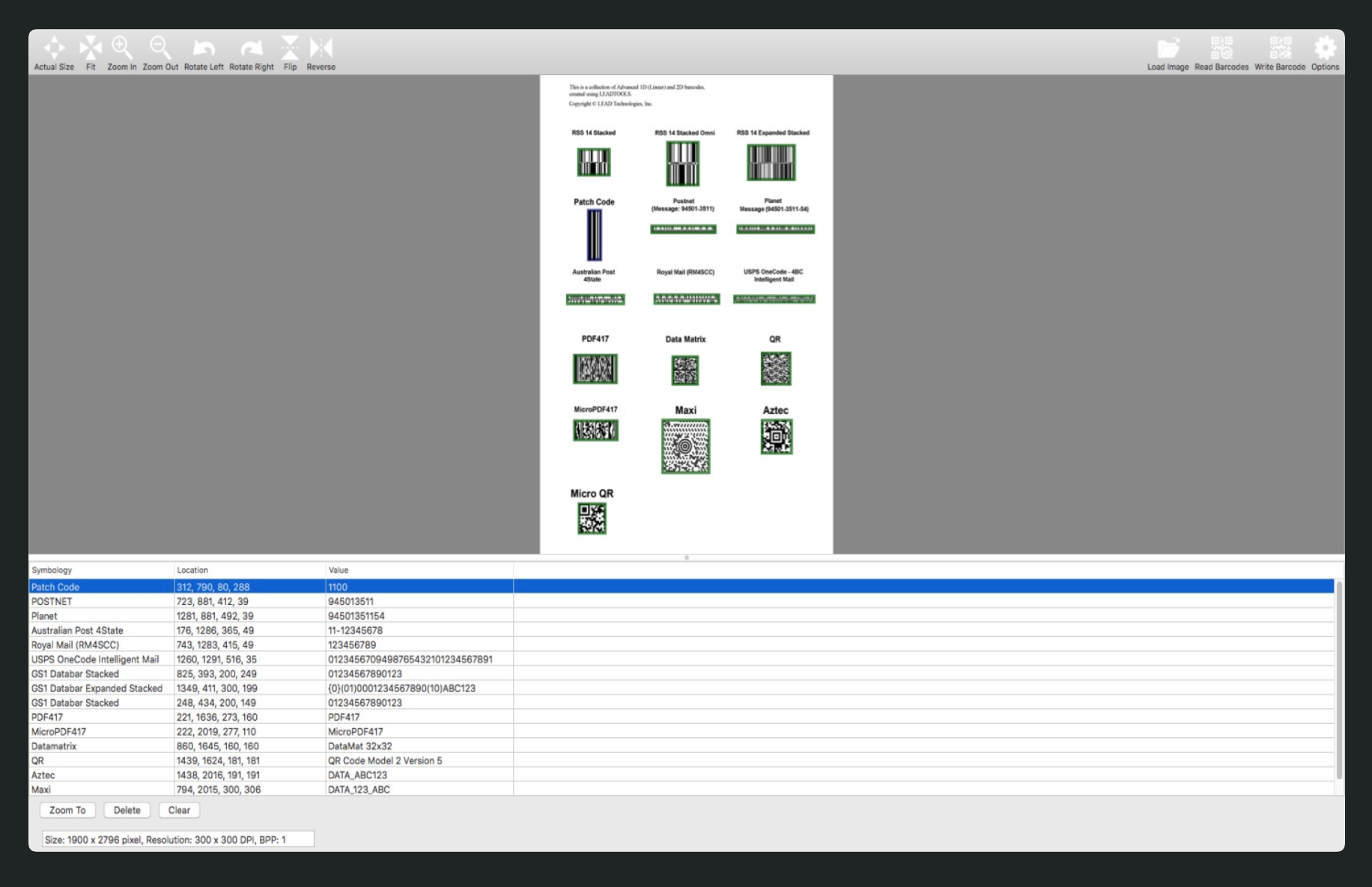 Ratings- N/A
Barcode Scanner and QR Reader reads barcode and QR code information from live camera capture as well as still frame image files. This app is built from the award-winning LEADTOOLS Barcodes SDK.
The app gives freedom to developers to integrate their own applications using LEADTOOLS. The app is powered by patented machine algorithms making it a popular choice for developers.
It supports QR code, UPC, EAN, Code 128, Datamatrix, PDF147, Aztec, Maxi, and many more barcode formats.
4. QR Scan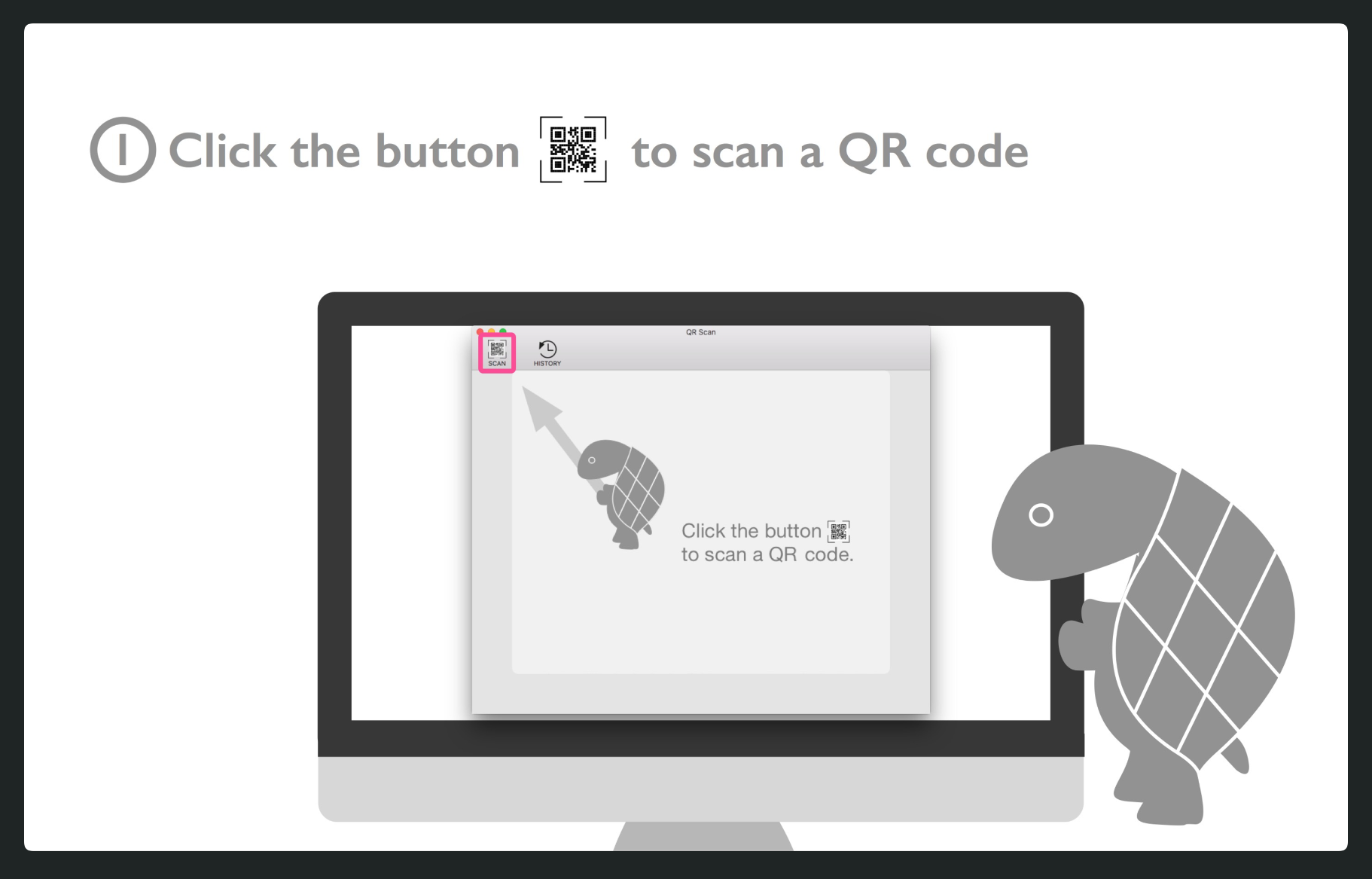 Ratings – N/A
QR Scan is one of the most convenient and popular QR code scanners available for Mac users. The application scans the QR code using the Mac's built-in camera and stores the data in "History". The drawback, however, is that the built-in camera of a Mac is not as high performing as an iPhone and thus small-sized QR codes may not be scanned.
QR Scan works best with its twin app "QR Send" built for iOS. It is capable of reading any length of texts sent from QR Send via a sequence of QR codes.
It primarily works with QR codes and Apple devices.
5. BarnQR – Barcode & QR Code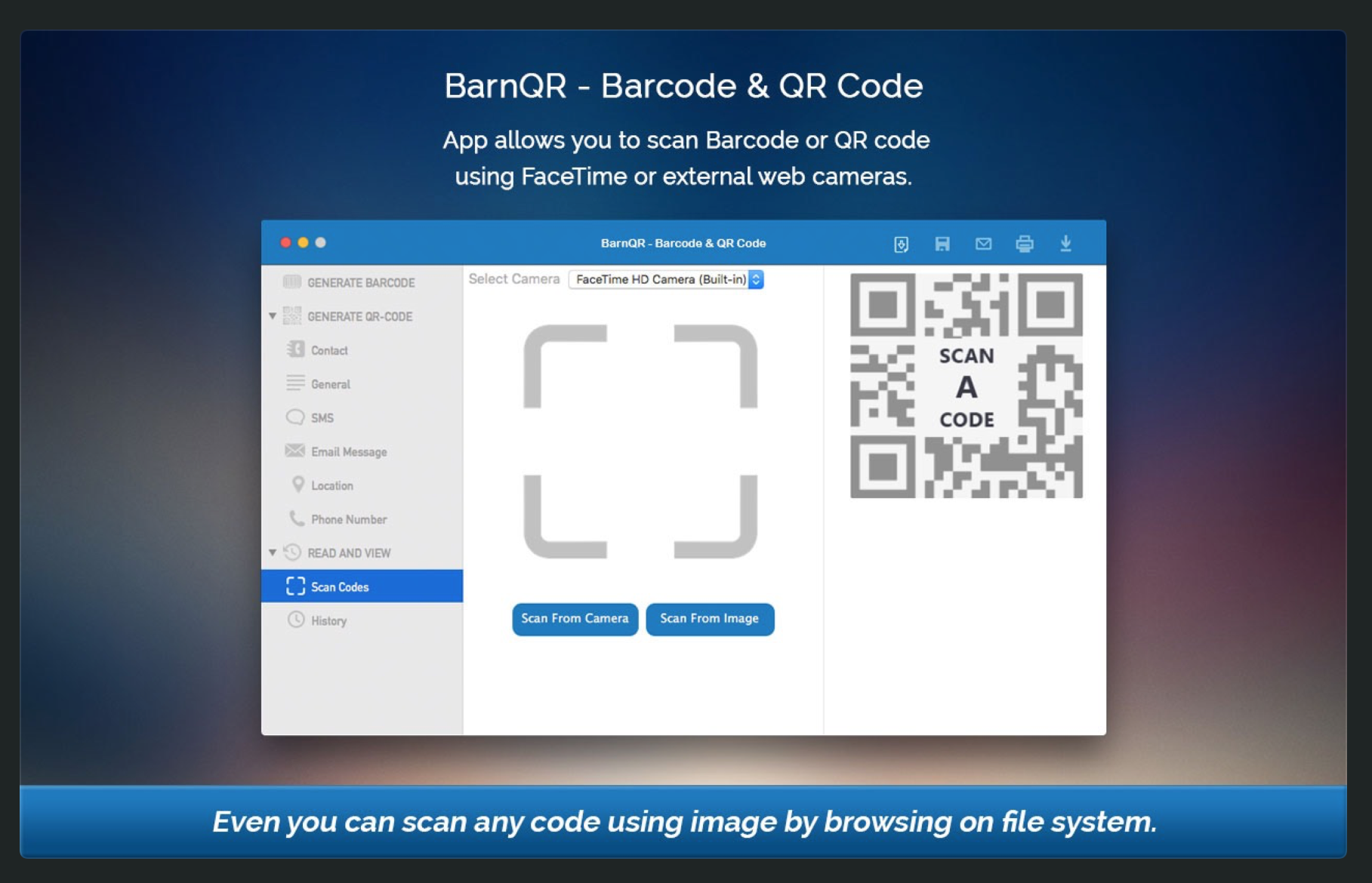 Ratings – N/A
BarnQR Generator and Scanner have dual capabilities of creating and scanning a QR code effortlessly. It allows you to scan a barcode or QR code using Facetime or any third-party camera app. You can even scan any code using an image by browsing through the file system.
BarnQR comes with many important features. Some of these include sending the QR code as an email from the app itself, printing the code image, generating QR codes in bulk using a single text file, save code images as PNG/JPG, etc.
It is capable of generating and reading QR code, Aztec, Codebar, Code 128, EAN, ITF, PDF147, ISMN, and many other barcode formats.
6. Quick Scan – QR Code Reader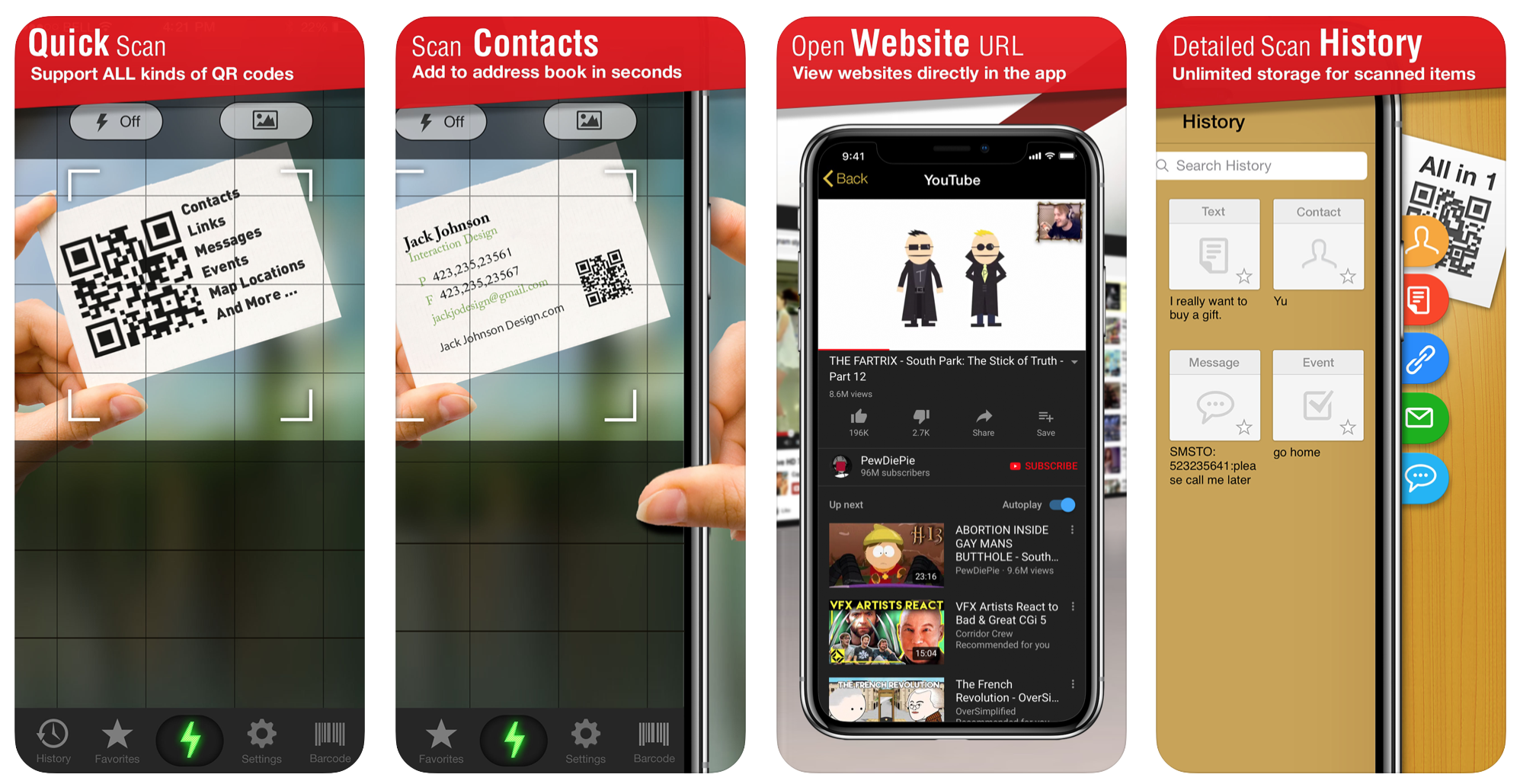 Ratings – 3.4/5
Quick Scan is one of the fastest QR codes and data matrix scanner app. It helps you scan and decode all the QR codes around you. It includes contact details, plain text, website URL, telephone number, SMS message, email address, email message, calendar event, locations and more.
It is a very fast QR code reader that is always ready to scan a QR code. The moment you point your camera towards the QR code, it will be able to read it instantly. If you are always on the move and need something which can keep up with your fast life, this is your app.
7. QRKit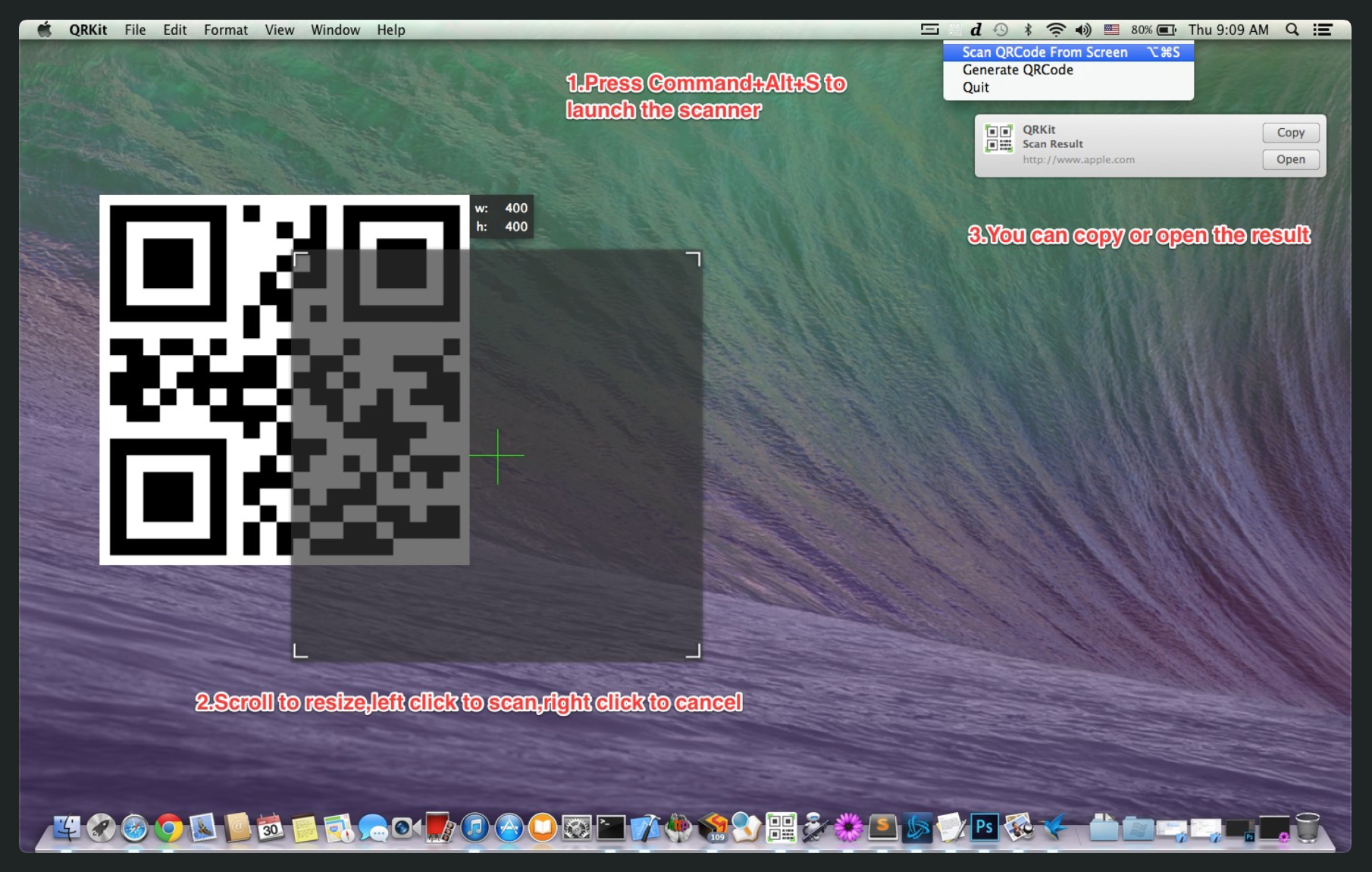 Ratings – N/A
QRKit is a very easy to use QR code reader and barcode scanner for iPhone and iPad users. It also comes with the capability to generate QR code from images. It is one of the most user-friendly QR code readers as you just need to open the app, launch the camera view, point it towards the QR code and you are done.
You will be redirected to the associated URL, read the attached text, access location, email address or any such actions after scanning.
The other features of QRKit includes scanning QR code on the screen and from an image file, ability to scan address URL, phone number, SMS message, Geolocation, and email address, providing support for URL encoding, color and size change.
8. QR Code Reader : BarcodeTools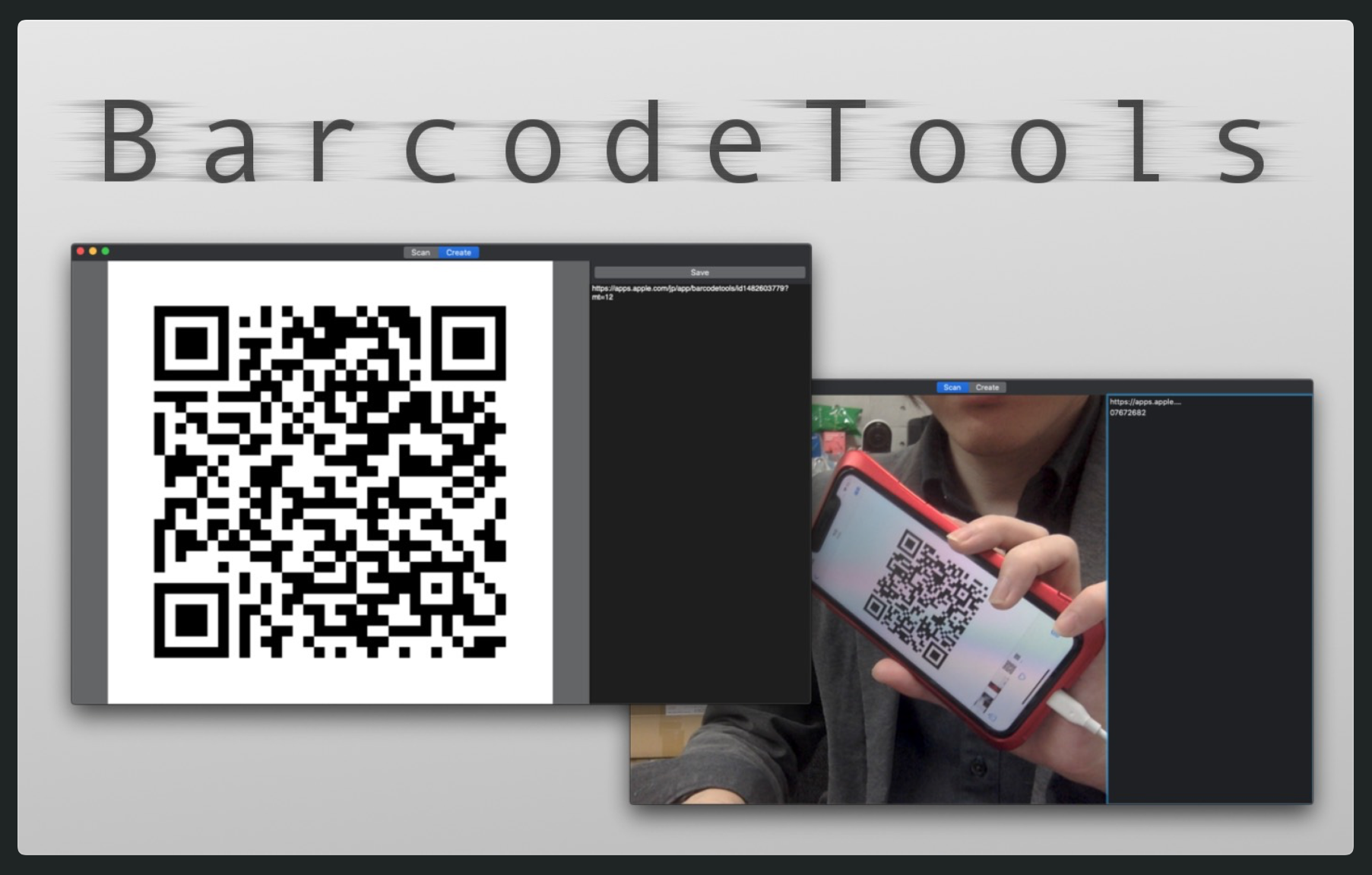 Ratings – N/A
BarcodeTools comes with the dual capability of reading as well as generating QR codes. The iPhone and iPad users shall be delighted by this very simple reader and creator of QR codes as well as barcodes. The scanned codes get copied to the clipboard and you can then paste it anywhere you like.
BarcodeTools supports a variety of barcodes for scanning. It also has the ability to read QR codes and barcodes continuously.
You can create a QR code immediately from a text entry using BarcodeTools. Also, you can save the QR code as an image.
9. QR Capture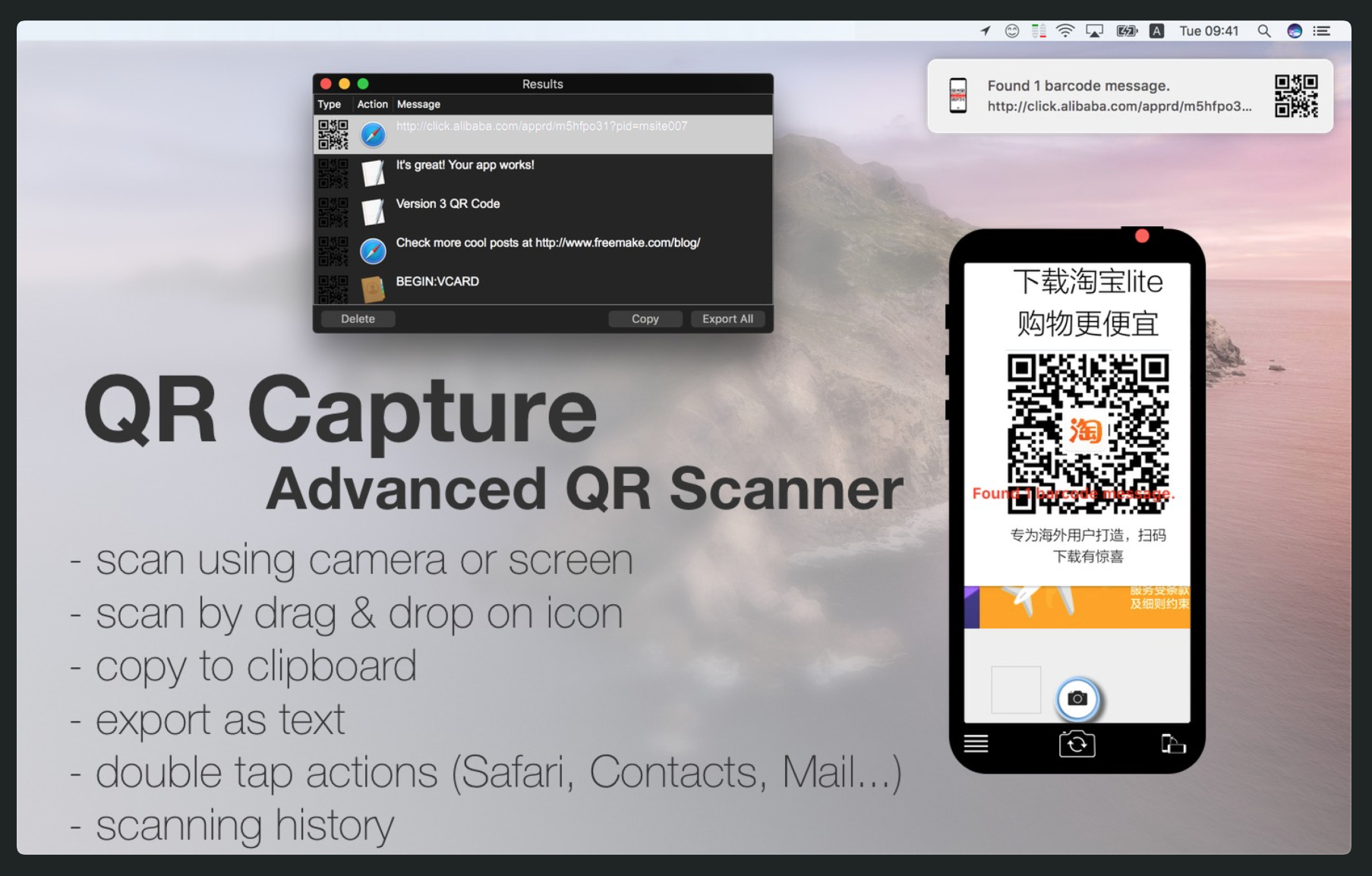 Ratings – 5/5
QR Capture is a very simple QR code reader for the iPhone and Mac. It scans barcodes using the screen or camera. You can also drag and drop icons to scan. It uses the iSight camera to detect and scan a QR code on your screen.
This QR code scanner is a perfect app for all computer beginners who do not want to dwell deep into the intricacies of how the QR code reader works.
QR Capture has a drag and drop function where you drop the icon to the required scan space. It gives you the ability to save the QR code to your clipboard as well as export the scanned codes as CSV text.
10. Bakodo – Barcode Scanner and QR Bar Code Reader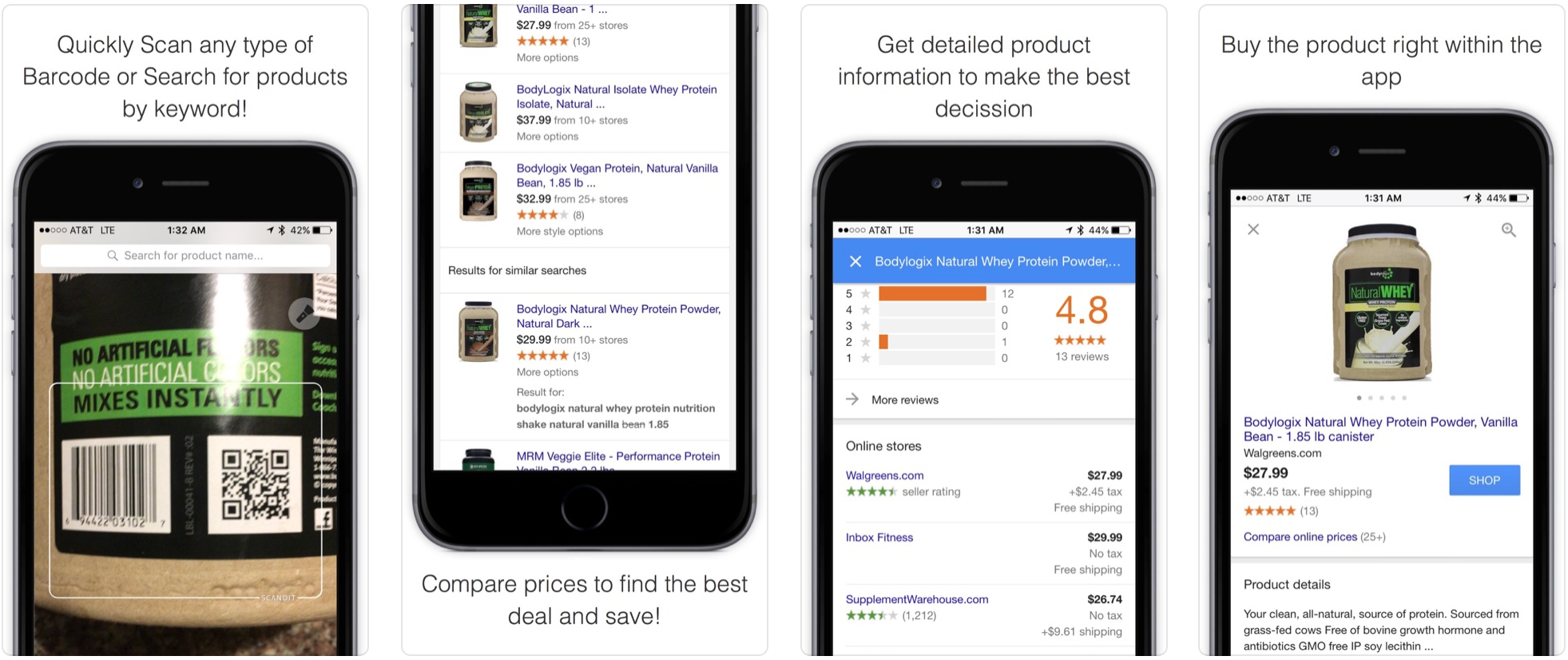 Ratings – 2.7/5
Bakodo barcode scanner and QR code reader is one of the best apps for your QR and barcode scanning while you are shopping. Whenever you are out shopping and simply want to scan a barcode attached with a shopping cart, you can use this barcode scanner app.
It has the capability to scan QR codes and all other types of barcodes which include 1D (UPC, EAN, etc) to compare prices & 2D (QR, Bidi) codes to perform actions – open URLs, save contacts, etc. It gives the user an option to scan from their camera roll as well.
So these are the most popular paid and free QR code reader app downloads. This list will be updated regularly and contains QR code reader apps available for iPhone and iPad devices, based on a search of the phrase: "QR code" at the app ranking-website TopAppCharts.com.
Personally, I prefer the free barcode scanner Bakodo and Quick Scan. Both are completely free and work very fast and accurate. I have the feeling that the Quick Scan – QR Code Reader is a little bit faster than Quick Scan Pro. You should try it out by yourself. You find both readers on top of the ranking list. You need to be careful as there is also a Quick Scan Pro version in the app store which costs some money. Although it is not too much, only 99 cents, but the free version should be enough for most situations.
PRO TIP: Scanning QR codes on iOS (11 and above) does not require an additional app. All you have to do is point your native camera at the QR Code and click on the link that pops up
Additionally, if you are looking for creating QR codes, you can go to the QR Code Generator to create a QR code.
Content Marketing Strategist
,
MobStac
Tech-aficionado, curious about all things related to marketing, and an ardent junkie of The Office.
This blog was originally published on October 13th, 2020 at 03:32 pm